SWIFT ZERO
The Swift is APCO's top of the line cross country harness!
Watch this product and we will notify you once it is back in stock.
SWIFT ZERO
The Swift is APCO's top of the line cross country harness!
The Swift Zero is the "baby brother" of Swift Race harness. It shares the geometry and the comfort of the Swift Race, but minus features needed by competition pilots, offering more bang for your buck!
Main differences are:
Rear fairing is now smaller for easier packing, not inflatable, but rather a constant streamlined shape vs. long inflatable fairing of the Swift Race.
Under the seat integral reserve compartment only vs. additional front reserve container on the Swift Race.
The flight deck/Instrument panel is removable in favor of changing between harnesses vs. the integral flight deck of the Swift Race.
The front pod material has been upgraded to a lighter material, which is elastic and sealed against wind and water, insulating from the elements.
Body Geometry
Body Geometry – before everything, we have made sure that geometry of this harness is perfect. We worked hard to achieve balance between comfort and activeness. The Swift will transmit exactly what the wing is doing, but in a way which is reassuring and not surprising.
Comfort was the main objective and it was achieved by extensive, padded support throughout the harness. A fully breathable padded back with wide shoulder straps for load distribution help relieve any pressure points which can occur after hours in the harness. The rigid seatplate is covered by dense foam and complemented by load bearing semi-rigid elements integrated into the back of the harness (APCO exclusive) making sure body stays in the optimal ergonomic position regardless of how each webbing adjustment is set up.
Speed & Aerodynamics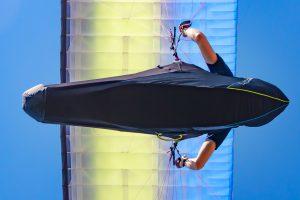 Special attention was aimed at improving the speed system. A double set of ball bearing pulleys promote a smooth and effortless operation of the speed system.
Regardless of your wing, you will be amazed how easy it is to push the speed bar with this harness. A special feature incorporated into this harness is an adjustable position speed system pulley.
This system allows to move the pulleys position according the pilot's center of gravity, preventing the harness from pitching up or down when applying speed system. This feature is unique to APCO and is an example of our attention to the technical details of performance in flight.
The Swift Zero has a low drag profile. The rear fairing doubles also as a huge back pocket that can store all your flying gear and more. The back Fairing retains an aerodynamic shape in flight and is easy to fold for packing and storage.
A zipped closed rescue bridle channel contributes to the sleek harness surface and a safe secure reserve deployment sequence.
Lightweight
the Swift Zero is was designed to be light. Saying that, it is still a durable harness and no short cuts were taking with construction or materials.
It is as light as possible to make a harness without compromising on durability or performance.
Pilot Suitability
Based on a proven tested competition harness, the Swift Zero is a trickled down version of the Swift Race intended for pilots searching for competition level comfort at a weekend warrior price-point. For pilots who have never used a pod harness, its smooth feedback and comfort will improve thermaling capacity and XC performance.
The Swift Zero will upgrade any pilot's flying sensation and will be the ultimate choice for breaking existing records!